Please feel free to e-mail us here. We welcome your comments and ideas.

For any Liz Carroll bookings, whether solo or in any other settings, please contact Tom Carroll, Liz's brother and manager:
1700 Westholme Avenue, Apt 301, Los Angeles, CA, 90024, USA
312-961-4341 cell, lizfiddle@gmail.com

Publicity
Contact Tom Carroll, 312-961-4341, lizfiddle@gmail.com

Presenters
Check the Gigs & PR page for publicity and marketing materials. Certainly e-mail us at  lizfiddle@gmail for anything else you need.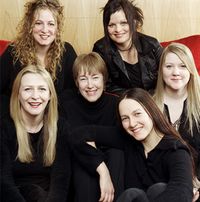 String Sisters
The band combines the very considerable talents of Annbjørg Lien (Norway), Catriona Macdonald (Shetland), Emma Härdelin (Sweden), Liz Carroll (United States), Liz Knowles (United States) and Mairéad Ni Mhaonaigh (Ireland). 
Their backing band is no less accomplished as it features Tore Bruvoll (Norway) on guitar, Dave Milligan (Scotland) on piano, Conrad Molleson (Scotland) on bass and James Mackintosh (Scotland) on percussion.
Manager, Jane-Ann Purdy, +44 7846 090357
i
ntouch@geordiemac.co.uk
See
Liz's Gigs & PR page
for String Sisters concert info!
Links
Here are links to some of Liz's favorite web sites.
The podcast Irish Music Stories is available via your favorite place to get podcasts. Musician Shannon Heaton interviewes practically everyone Liz knows in Irish music (including Liz in Episode 1!) for stories about the music - including the wit and banter, dance and song, and musicians talking about how they do what they do. A new season begins in May of 2020!!
The Séamus Connolly Collection of Irish Music is a digital collection of tunes, and that's audio and transcriptions, collected and organized by master fiddle player Séamus Connolly, who began his tenure at Boston College in 1990 and was Sullivan Artist in Residence in Irish Music from 2004 to 2015. The collection links three generations of musicians and pays tribute to those in previous generations who kept the tradition alive. More than 130 contemporary musicians participated in this project by recording tracks - including Liz!
Liz serves on the board of advisors to the Roots Music Program at the Berklee College of Music, directed by Matt Glaser. Other board members include Ricky Scaggs, Bela Fleck, Leo Kottke, Charlie Haden, Edgar Meyer, David Grisman, Bruce Molsky, Jay Ungar and Molly Mason, Darol Anger, and Sara and Sean Watkins, among many others.

Liz rarely teaches on an ongoing basis, but check the Gigs & PR page for festivals where she may be teaching master classes and workshops. The Murphy Roche Irish Music Club, just southwest of Chicago, is an active organization, and is affiliated with the international organization of Irish Musicians, Comhaltas Ceoltóirí Éireann. It's a splendid place to learn the music via the school's staff, to participate in sessions, whether you're a child or adult.

If you're in the Chicago area, there's no better place to learn than at Sean Cleland's Irish Music School.


CHICAGO LINKS

The Irish American Heritage Center is Chicago's home for all things culturally Irish, including music, dance, theater and art.

Equally important in Chicago is Gaelic Park, deep on the South Side. In fact, it's in Oak Forest. Every Memorial Day weekend brings Irish Fest!
Musicians, Festivals + Friends
MUSICIAN LINKS
Guitarist and singer John Doyle's web site is www.johndoylemusic.com. John is Liz's partner on the great In Play and Double Play albums.
Dáithí Sproule, Liz's favorite member of Trian has a new album out, Lost River, Vol. 1, an album featuring songs in Irish and English, and has many terrific guests, including (humbly) Liz.
Billy McComiskey - Liz's favorite member of Trian most recent album, Outside the Box, is available via Compass Records. Billy's producer? None other then John Doyle!
Jimmy Keane, the great piano accordionist, is Liz's contemporary and fellow Chicagoan, and with whom she won the All-Ireland Senior Duet.

FRIENDS LINKS
www.bogfire.com - Friends of Liz who offer a wide and eclectic mix of works from creative artists, from Celtic musicians like Liz, to Chicago blues artists, photography, fiction and poetry.

FESTIVAL LINKS
Milwaukee Irish Fest - Liz has performed many times at Milwaukee's great festival. She appeared at the very first fest, and in 2010 at the 30th!
Sligo Live Festival, Liz & Seán Óg Graham appeared at the 2019 fest.
The Shamrock Traditional Irish Music Society provides so many opportunities for Irish musicians and fans that their site must be seen.
MUSIC CAMPS
Liz has taught regularly at Celtic Week at the The Swannanoa Gathering in Asheville, North Carolina. The director, Jim Magill, always brings the best musicians who are also the best teachers!
O'Flaherty Irish Music Retreat in Midlothian, Texas, is held every October, and, as the web site says, it's "A tonic for the times... three relaxing days in a comfortable, scenic setting saturating yourself in traditional Irish music with a community of motivated students and gifted teachers." Liz attests to the amazing teachers Ken Fleming and his staff bring every year.