Photo above by Rebecca Lomnicky
New Music from Liz and Others - and you can listen free!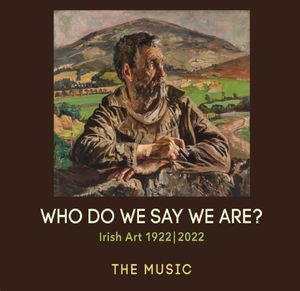 Here's a new album from Liz and a host of fine musicians and composers, inspired by the centenary of the 1922 Exposition d'Art Irlandais held in Paris.
You can listen to the album's tracks here.
The album also accompanies an online exhibition called "Seeing Ireland" where you can experience Irish Art and Culture as it was exhibited to the world in 1922, when the Irish State was transitioning to its independence.
The online exhibit is sponsored by many organizations, including the Irish Government, Trinity College of Dublin, the O'Brien Collection, the University of Notre Dame and its Snite Museum, Centre Culturel Irlandais - Paris, and University of Paris-Sorbonne.
In addition, there's an exhibit opened in February, 2022, at the Snite Museum of Art at Notre Dame University, also called "Who Do We Say We Are? Irish Art 1922|2022," which, like the online exhibit, celebrates the goal of the 1922 exhibit, to reintroduce and establish the legitimacy of Ireland as a free state via its culture rich in art, literature, and music.
This is a contemporary album of music produced by Liz and Marty Fahey, with original compositions by Liz, Marty Fahey, and Liz Knowles, along with traditional tracks (some played in concerts at the 1922 Exposition), and performed by some of Irish music's most acclaimed artists, including the Seamus Egan Project, The Goodman Trio, Màiri Chaimbeul, Damien Connolly, Colman Connolly, Marty Fahey, and Liz Knowles.
---

Liz Carroll is an Irish fiddler, composer, and recording artist. She is the first Irish-American musician to be nominated for a Grammy, and the first American-born composer honored with the Cumadóir TG4, Ireland's most significant traditional music prize. Liz has toured as a solo artist and with The Green Fields of America, Trian, as the duo Liz Carroll & John Doyle, String Sisters, and now as a duo with guitarist and pianist Jake Charron. She is featured on fourteen albums and has appeared on many more. Her duet album with Jake Charron, Half Day Road, released in February, 2019. Liz was born in Chicago of Irish parents, and still lives just outside her hometown.